We put our bikes to the test!
Put through their paces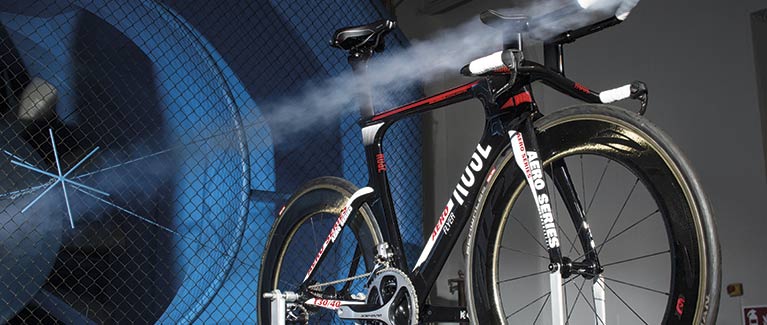 Until a bike is allowed to bear the ROSE logo, it has to go through a lot of stages. Everything starts with an idea. Then drawings follow, computer simulations are produced and the first prototypes are built. An entire fleet of team riders rides on ROSE bikes and their experiences also influence the development of a bike. Elaborate wind tunnel tests help to improve the bikes' aerodynamics and performance.
However, that is not enough, as we leave nothing to chance. In the testing laboratory, we simulate peak loads – each bike has to go through the torture test for two-wheelers. The additional, strict tests go far beyond legal requirements and always end with a controlled total write-off. That is the only way that we can see how robust and safe our bikes are. We want nothing but the truth. This procedure is the ultimate test for our bikes – and a really positive aspect for your own safety. Stiffness and material fatigue tests as well as overload tests thus belong to our standard.
For many years, we have been working together with the engineering and consulting office of Dirk Zedler (www.zedler.de) as well as with EFBe Prüftechnik (www-efbe.de). No frame is safe from bicycle testers like them. With their support, we significantly improve the quality of our frames. Each ROSE bike is designed for a long life and reflects our idea of how a perfect bike should be like. A bike with best riding qualities, clever detail solutions and a great design you will enjoy for a long time.
Print
'load map