Book an advising appointment in Munich now online
Book an appointment now for a personal and individual advice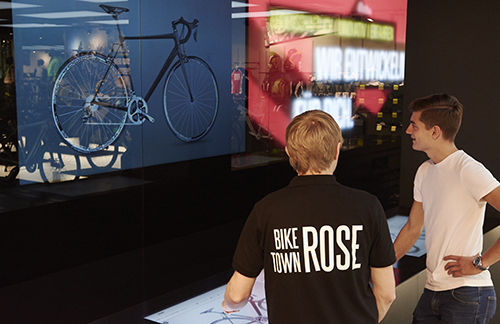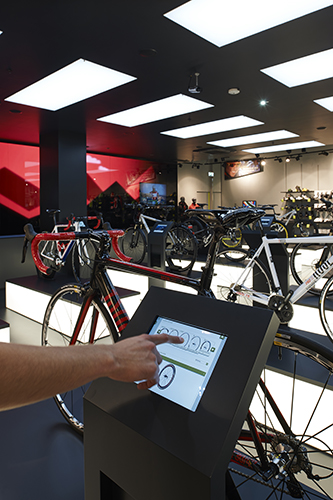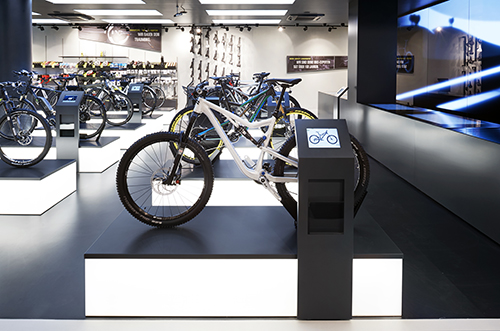 A customised bike for every customer's request
A bike floats on the wall. Its frame size changes, as well as its tyres and its saddle. The bike turns, presents its front and back and shows what it has got to offer. Carbon Drive? Click. An extra stable luggage carrier? Click. You want a technical aluminium finish instead of discreet black? Click. The bike is not yet reality. It is a digital image, presenting its merits on a huge flat screen. In life size. A few steps next to it, an adviser gives tips about the optimum gearshift and projects the result of the customer's choice onto a wall within seconds by the click of a button. Not without having taken the precise measurements of the customer before.
The ideal bike – exactly tailored to your personal needs. After all, you want your bike to match perfectly, with your personal figure, with your personal riding aims and your personal budget. Oh, and the price is shown on the screen with every change made. After ordering, it just takes four, three or sometimes two weeks, until your finished dream bike is delivered.
Dreams of the future or reality? In ROSE BIKETOWN Munich this scenario has become reality. Bikes are individually configured here, on a huge screen on the wall or on smaller tablet PCs, which are spread over the room. The bikes are then produced a few hundred kilometres away further north in Bocholt, where the headquarters of the bike expert company ROSE Bikes GmbH can be found.
The waiting times for a bike advice differ with the day of the week and the amount of customers. That's why we recommend booking a personal advising appointment in advance, in order to avoid long waits.
Print
'load map