Our test centres
Test our bikes!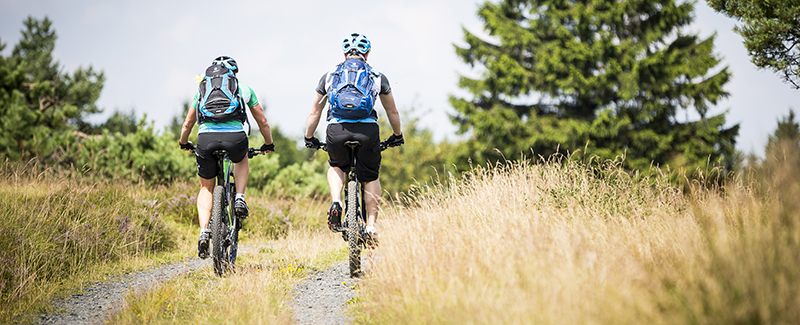 Test centre Hochsauerland:
In cooperation with our partners Bike-Pension Schröder and Hotel Hochheide, we offer a fleet of test bikes in Willingen. Discover the Hochsauerland on one of our latest bikes. More information under wandern-und-biken.de or hochheide.com.
Test centre Oberharz:

Our partner Waldhotel Untermühle has got the latest ROSE bikes available for you. You can test them in 4 bike parks or on 1200 km of designated MTB trails. More information under mountainbike-hotel-harz.de.
Test centre Vaujany:

Our test centre is set in the idyllic village of Vaujany in the French Alps. Test our ROSE bikes on the spot in a bike park or on one of the most challenging tracks of the region: Alpe d'Huez. What's more, the legendary mountain bike event Megavalanche takes place nearby. Whether demanding uphill rides on a road bike or tricky downhills on a mountain bike – the region around Vaujany is perfect for your next bike holidays. ROSE test bikes (road bikes and mountain bikes), as well as a small show room can be found in Vaujany's village centre. More information under vaujany.com.
Test centre Lake Como:

Come and see for yourself our road and mountain bikes at the ROSE Service Centre in Italy, located north of Lake Como. Take an appointment to test your next bike on fantastic trails with lake view. Further information under: sergio@rosebikes.it or +393383305116.
Test centre South Tyrol:

Our partner, the Hotel Tyrol, lies in the beautiful region of South Tyrol, near Meran. This wellness hotel offers everything a biker's heart could wish for. You can test our latest MTBs on fantastic tracks. Click here for more information.
BIKE FRIENDS SCHON, MALLORCA:

No other island offers a better infrastructure for cycling. The bicycle rental agency is opened from the beginning of May to the end of October. Click here for more information.
TEST CENTRE MARIA ALM, AUSTRIA:

Ride on a ROSE bike at Mount Hochkönig! The BIKE-HOTEL Eder lies in the heart of the Alps in Maria Alm. In the centre of the village, you can find everything you would expect from a small village like that: a church, a village square and a pub – the three centre of social life in rural areas. Today, you can also find the modern 4-star hotel Eder – the Steinerne Meer ("Rocky Sea") hotel – here. A golf hotel. A hiking hotel. A wellness hotel. A bike hotel. For mountain bike holidays, active or family holidays. Click here for more information.
Print
'load map