Münsterland Touristik
Cycling region Münsterland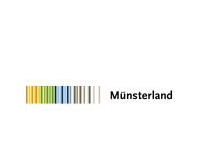 Contact
Cycling region Münsterland
Münsterland e.V.
Airportallee 1
48268 Greven
free service hotline (from German landlines) 0800/9392919
Fax: 02551/939293
Cycling region Münsterland
Welcome to Germany's cycling region Münsterland. Enjoy your holidays on varied cycling tours through the idyllic park landscape. The Münsterland belongs to the ten most popular cycling region in Germany - says the ADFC bike holidays analysis. The dense and completely signposted net of bike paths particularly pleases all touring cyclists.

Münsterland's predominantly flat park landscape with its architectural and cultural highlights is the perfect place for unhurried tours as well as for sportively ambitious ones. A 4,500 km long bike path net does not only offer popular thematic tours, such as the "100-Schlösser Route" (tour of 100 castles), the "Friedensroute" (tour of peace) or the "EmsRadweg" (bike path along the river Ems), but also a multitude of short and long, very interesting tours through the region.

There is an elaborate infrastructure available for touring cyclists, comprising Bed & Bike establishments, navigation systems, flat charges for touring cyclists and bicycle service and rent stations.
Print
'load map