Club Lyttos Beach
Bike station in the Lyttos Beach Robinson Club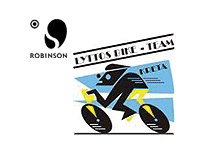 Bike station in the Cala Serena Robinson Club
Bike station in the Lyttos Beach Robinson Club

Dem Wind ein Lied erzählen -
ein Lied vom Himmel auf Erden,
ein Lied eines großen und stolzen Volkes,
einer atemberaubenden Insel, KRETA - Morgendämmerung des europäischen Aufbruchs

Crete is a wonderful holiday destination for everyone. It is also the perfect place for cyclists who would like to discover a beautiful island unhurriedly, far away from the stress of everyday life. This is what we offer in our bike station RC Lyttos Beach.

We have a varied offer of organised mountain bike and racing bike tours. Tour tips, street maps and GPS devices are available for individualists. And if you don't want to bring your own bike, you can rent a RED BULL bike here.
We would like to share this beautiful place with you!
Print
'load map