Zum Eggerwirt
Wellness hotel - spa & vital resort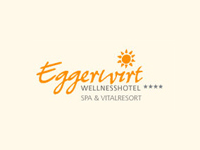 Contact
Familie Moser -
Wellnesshotel Eggerwirt
Kaltbachstraße 5 -
5582 St. Michael im Lungau / Austria
Tel.: ++43/6477/82240 -
Fax: ++43/6477/822455
office@eggerwirt.com
www.eggerwirt.com
Welcome to paradise!
The wellness hotel Eggerwirt is situated in St. Michael, in the sunny south of the Salzburger Land.
A multitude of possibilities to recuperate and to relax allow you to spend some beautiful and exciting days in the Eggerwirt. Spacious rooms with panoramic view, cosy ambience and hearty hosts make the guests feel at home immediately.
It goes without saying, that this four-star hotel offers the comfort and state-of-the-art-equipment you can expect from any hotel in this category.
The Wellness hotel Eggerwirt is an ideal holiday desination, not only for people who are fond of cycling, but also for anyone who likes sports, fun and entertainment. In the summer, the Naturpark Lungau turns out to be a true wellness oasis with great mountain bike tours, a diverse wellness program and of course with golfing at a preferential price.
In the cold time of the year, a magic winter world awaits you. The wellness hotel Eggerwirt is situated in the heart of three skiing regions with over 220 km of slopes and 50 lifts, as well as 150 km of cross-country ski tracks. Enjoy the beautiful, snow-covered landscape on snowshoes or on foot, or breathe in the clear winter air while curling, sledding, snow tubing or on the sleigh.
The Sonnenhaus with its generous dimensions is another unique experience. On more than 10,000² a sauna and swimming pool landscape is spread out. It has a vital park with biotope, a heated outside pool, inside pool with special kids swimming pool, as well as a sauna area for children, whirlpool, Turkish bath, herbal sauna, solegrotto, Roman lanconium and trepidarium, ice grotto, original Finnish sauna in the garden and a relax area with 16 waterbeds.
In the beauty and wellness area, experienced therapists and cosmeticians pamper you with luxurious treatments. Asian special massages or classic massages will recharge your batteries for everyday life!
In the body & mind fitness pavillon with cardio fitness room and meditation temple, graduate wellness and vital trainers help you restore your inner balance and introduce you to established regeneration methods, such as Qi Gong or Tai Chi.
Gourmets will very much appreciate Eggerwirt's first-class cuisine with a rich breakfast buffet, a wellness snack with cake and coffee in the afternoon and a four-course dinner.
Little guests will be attended to by our friendly child care team with a varied animation program, making sure the children will spend beautiful holidays, too.
Treat yourself to the Eggerwirt, you won't regret it!
Print
'load map