ROSE Biketown Bocholt wins 2017 Stores of the Year Award
written on: 02.02.2017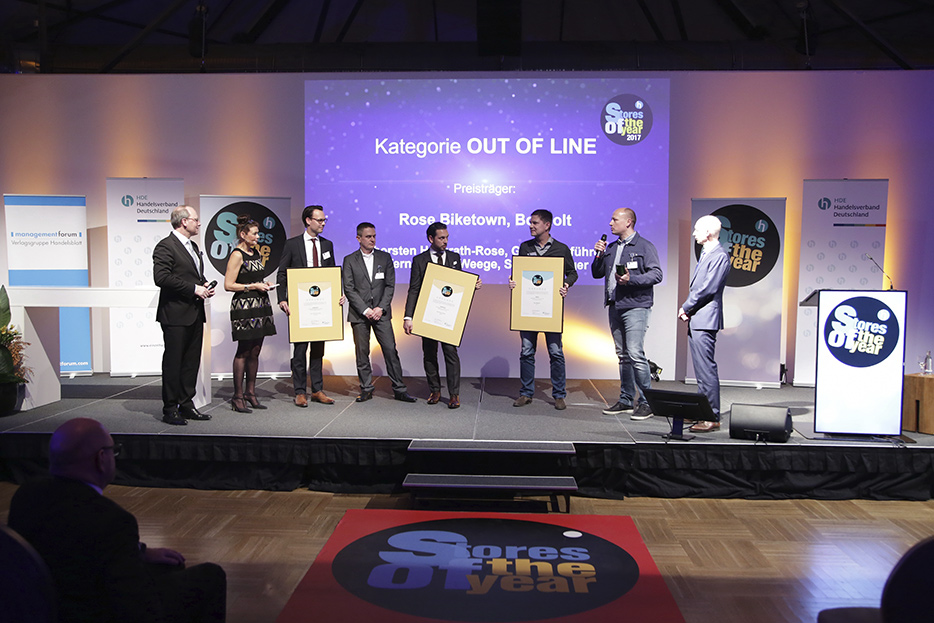 Yesterday, the ROSE Biketown store in Bocholt received the 2017 Stores of the Year Award in the "Out of Line" category. For the second time already, the German Retail Association HDE honoured the innovative and creative store concepts of the company ROSE Bikes with this award. The modernization of the flagship store in Bocholt has taken the retail-digitalization strategy of BIKETOWN Munich, that received the award two years ago, to the next level.
The expert jury based its decision in favour of ROSE Biketown Bocholt on the fact that the store offers a unique staging of everything to do with bicycles. In his laudation, Michael Reink of HDE said that the customers can expect a feel-good world on a sales area of around 4000 m² that leaves nothing to be desired. The expert bike advice, the possibility to have your body measured in a professional way and the inviting community lounge with delicious snacks and drinks made a lasting impression.
The central element of the ROSE Biketown store in Bocholt is the individual configuration of bicycles. The customers can configure their bike together with a specialist on site and see the life-size bike on one of three configuration walls. A special factor is that the individual bike configuration can be started, changed and completed at any point along the customer journey and in any channel. In this way, the customers can, for instance, start the configuration on a laptop at home at complete it with a ROSE member of staff in the BIKETOWN store.
The purchase of individual products like saddles or shoes is also turned into a child's play thanks to latest technologies. Measurement stations in the store determine data on sit bones and feet and store them in the respective customer account. For each future purchase through the online shop, the software compares the measured data with the product range to show the customer all matching products – a perfect interplay between online and offline.
"We see this award as a confirmation and motivation to consequently continue on this path of merging stationary retail with online commerce and of positioning the brand ROSE Bikes as an omnichannel brand," said the manager of ROSE Bikes Thorsten Heckrath-Rose about the award. The ROSE Biketown store in Bocholt successfully competed against the Munich store of the brand Decathlon and the store concept of Foto Koch in Düsseldorf.
Stores of the Year Award
The Stores of the Year Award presentation took place within the 13th Retail Property Congress in Berlin. The jury evaluates shops based on their level of innovation, customer benefit, added value potential, experiential value, their leading role as well as on their unique selling proposition. The following factors are used as a basis for the evaluation: Space and design of the shop, composition of the product range, product presentation and expertise of staff.